Morris Depew completes engineering services for first phase of Meridian Center North project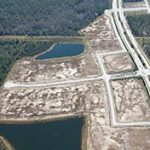 FORT MYERS, Fla. (Feb. 20, 2018) – Morris Depew and Associates, Southwest Florida's premiere civil engineering and land use planning firm has completed work on Meridian Center North, the first facility in the Meridian Center project slated to break ground this month.
Developed by Knott Realty, the 200,000-square-foot manufacturing and distribution facility located on 15 acres at 10400 Meridian Center Parkway in Fort Myers will be equipped with 32-foot ceilings, multiple drive-in and loading dock doors and parking accommodations for more than 350 vehicles.
Morris-Depew Associates worked closely with Knott Realty to provide site design and land survey and mapping services, including constructing staking and final platting. Led by Partner Ryan Shute, the team also provided infrastructure zoning and permitting services to ensure approved usage of the site for commercial use.
Celebrating 30 years of serving Southwest Florida, Morris-Depew Associates is a multiservice consulting firm with specialties in civil engineering, land planning, expert witness, landscape architecture, and surveying and mapping services. MDA's efforts are based on a multidisciplinary, collaborative approach to the planning and design processes, which emphasizes interaction within the firm's allied professional expertise in conjunction with the client's objectives and ultimate needs. The members of MDA have experience in the planning and design of a wide variety of urban, residential, commercial, industrial, recreational, and community-oriented projects ranging from large-scale resort residential projects to urban community spaces and commercial multiuse developments.
For more information, contact 239-337-3993 or visit