Morris-Depew Associates, Inc.
December 2017 Newsletter
The professionals at Morris-Depew Associates would like to thank all of our friends and colleagues for their support of our business over the past year. As we get ready for the Holiday Season, we would like to remind everyone our offices will be closed December 25th and will reopen January 2nd, 2017. We wish you and your family a Happy Holiday Season!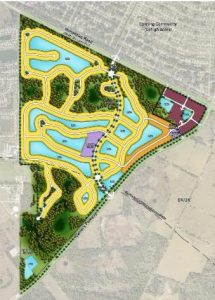 For most of 2017, Ms. Tina M. Ekblad, AICP, MPA, LEED AP Partner – Planning Director and Ryan Shute, PE President secured entitlements for Lennar Companies' Timber Creek Property. Mr. Michael Ekblad, PLA Director of Landscape Architecture designed the conceptual land plan in close coordination with Russell Smith and Barry Ernst of Lennar Companies. Ms. Ekblad and Land Use Attorney Steve Hartsell of Pavese Law prepared a Comprehensive Plan Amendment and dual Planned Development requests to permit the conceptual site plan and establish 1,315 residential dwelling units, 120,000 square feet of commercial, 100 hotel rooms and 50 multi-family units on the 695 acre property. These entitlement applications were also supported by David Brown of Progressive Water Resources, Shane Johnson of Passarella and Associates and Ted Treesh of TR Transportation. The project team will attend the final hearing at the Lee County Board of County Commissioners December 20, 2017 to adopt the proposed development.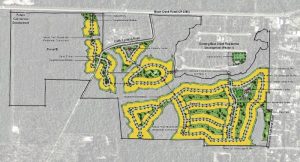 The Morris-Depew Associates Destin and Fort Myers Offices have come together to secure additional entitlements for Bear Creek. A portion of the residential community, located in Walton County, Florida, has been built out with 109 single family lots on approximately 52 acres. MDA is coordinating with JMB Freeport, LLC to redesign phase 2 of approximately 351 single family lots on 200 acres to promote a lifestyle community which respects the cultural heritage and pine flatwoods environment of North Walton.
Mr. Michael Ekblad, PLA Director of Landscape Architecture completed the redesigned site plan which works with the property's natural landscape to provide every lot with a view of a preserve or Bear Creek, the community's namesake. In addition, nearly 1.5 miles of nature trails are proposed to interconnect the residential tracts, preserve areas and stormwater management system and the three amenity centers, with lifestyle elements such as pools, sport courts, and a large dog park. The redesigned community contains more lots than the previous design while preserving additional Jurisdictional Wetlands. The increased preservation allows Biome Consulting Group, the project environmental consultant to submit a Nationwide Permit application to the Army Corps Of Engineers (ACOE), significantly decreasing the permitting timeline and review fees. When coupled with the phasing strategy prepared by the Morris-Depew Team, the redesign permits portions of the community to be developed ahead of ACOE approval and in a manner that ensures construction traffic will not negatively affect phase 1.
Plantation Skilled Nursing Facility
Earlier in 2017, Morris-Depew Associates amended an existing Planned Development previously secured by the firm to establish  a 75-bed skilled nursing facility adjacent to Gulf Coast Medical Center (GCMC) for Lee Health. Mr. Ken Gallander, AICP Principal Planner secured the Administrative Amendment and Mr. Bill Morris, PE, LEED AP Partner – Director of Engineering, Mr. Mark Hatfield PSM, Director of Surveying and Mr. Michael Ekblad, PLA Director of Landscape Architecture have worked extensively with Studio+ Architects and Stevens Construction to secure the Development Order approval and provide surveying services during permitting and construction phases. The proposed facility will be part of the larger GCMC Campus, expanding the hospital's capacity for patients needing short term medical recovery and rehabilitation.
While construction of the 75-bed facility occurs, Ken is also managing a Planned Development Amendment with Cheryl L. Hastings of Grant Fridkin Person, PA to incorporate an additional 5 acres and permit 100,000 SF of medical office, 15,000 SF of commercial uses and include a centrally located parking structure to support the existing skilled nursing facility.
The Morris-Depew Team supports several Litigation cases each year, often these efforts span multiple years before coming to a final resolution. Over the summer and fall, a number of cases were finally resolved.
Morris-Depew Associates prepared the initial Comprehensive Plan Amendment and Planned Development Amendment for this Master Planning Community, which were approved by the Lee County Board of County Commissioners in 2015. As a result of appeals made by residents and community organizations, Dr. David W. Depew, PhD, AICP, LEED AP, Principal and Ms. Tina M. Ekblad, MPA, AICP, LEED AP, Partner – Planning Director provided planning support and expert testimony through various trials. Finally, on November 2, 2017 the First District Court of Appeals filed a Per Curium Affirmed which maintained the previous decision by the Administration Commission to uphold the Lee County BOCC decision.
Kimberly Regenesis Medical Center
Ms. Tina M. Ekblad MPA, AICP, LEED AP with Mr. Bruce Strayhorn and Ms. Jenna Persons of Strayhorn and Persons represented the Cold Saturday Farms Neighborhood to oppose the expansion of a commercial medical use into their residential neighborhood in early 2015. The Lee County Board of County Commissioners voted to deny the requested rezoning based on these efforts. Ms. Ekblad again provided expert testimony on behalf of the residents again during mediation proceedings requested by the applicant which was withdrawn after the Special Magistrate upheld the decision of the BOCC. In August of this year the Twentieth Judicial Court denied the Writ of Certiorari, again upholding the BOCC's denial of the requested rezoning.
South Florida Water Management vs Meyers
Dr. David W. Depew PhD, AICP, LEED AP Principal  with Jackson Bowman and Ryan Reese of Moore Bowman and Rix, PA  represented the property owner in an acquisition case in the South Belle Meade area of Collier County. Dr. Depew's testimony focused on the public policy decisions that had been made in this area of the County which contributed to condemnation blight. As a result, at the conclusion of the trial, the jury awarded the property owner $650,000 for the acquisition, demonstrating the jury was persuaded by the condemnation blight arguments.
Morris-Depew Associates in the Community
Tis the season for supporting all the fantastic non-profits our community has to offer. The professionals at Morris-Depew have been out and about volunteering and supporting many of these great organizations.

Building Community and happy hearts one home at a time…during the first week of November the Morris-Depew Team partnered with Habitat for Humanities of Lee and Hendry Counties to participate in a volunteer build day.  Wearing stylish custom matching t-shirts, the MDA team, along with other members of the community raised all the walls for the future residence at 205 Maria Street, contributing nearly 70 work hours towards helping a local family find a safe and affordable place to live. Special thanks to Staff Member Morgan Henderson, for organizing the effort and the on-site professional contractors for helping a crew of site designers understand how to build vertical walls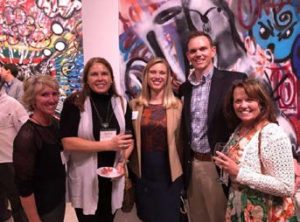 Ms. Tina M. Ekblad MPA, AICP, LEED AP is the Regional Chair for the Southwest Florida Region of Leadership Florida. In November, with the Leadership Florida Alumni of the Region, she welcomed the Leadership Florida Cornerstone Class to Southwest Florida during their Opening Session. The event took place at the Naples Art Association, displaying local artists and providing proximity to the many night time events of 5th Avenue Naples. Morris-Depew is happy to sponsor this statewide organization and the efforts of Regional Council.