Morris-Depew Associates, Inc.
December 2015 Newsletter
Grand Resort - Fort Myers Beach
The  Morris-Depew Associates team lead by Bill Morris, PE, LEED ®AP is excited to be assisting TPI Hospitality to grow its brand and investment in the Town of Fort Myers Beach, FL.  TPI Hospitality has purchased numerous contiguous parcels at the center of Downtown Ft. Myers Beach.  The redevelopment project is proposed for:
"Four beachfront resorts offering a total of 562 rooms, nine public food and beverage venues, retail tenant spaces, three public beach access points, and public restrooms.  …Additional features of the larger project include a pedestrian mall with activated F&B and retail components, a 30,000-square-foot conference center, a 10,000-square-foot spa and fitness center, a high-quality parking structure planned to accommodate up to 1,500 vehicles, and a public beachfront boardwalk with integrated sea wall."
Currently, Morris-Depew along with Cities-Edge Architects, Hans Wilson & Associates, David Plummer and Associates, Z-Space Design Inc., Gravina, Smith, Matte & Arnold, and Henderson, Franklin, Starnes & Holt, PA, are assisting TPI Hospitality.  At the November 30th, 2015 public meeting SWFL got its first glimpse of the once in a life time project.
On November 20, 2015, Lee County Hearing Examiner Laura Belflower issued her recommendation for approval of the Bentley Crossings development. The rezoning request on the 95.6 acre parcel from AG-2 to Mixed Use Planned Development, is the result of significant community input.  Great interest was shown by residents of both Buckingham and Lehigh Acres, resulting in a reduction of the original request from 400 dwelling units and 150,000 square feet of retail and office uses to the recommended 283 units and 110,000 SF. Attorney Charles J. Basinait of the Henderson, Franklin, Starnes and Holt, PA law firm served as land use counsel, while Tina Ekblad, MPA, AICP, LEED ®AP provided planning expertise. Michael Ekblad, PLA, assisted with site planning efforts and landscape architecture elements of the design, and Bill Morris, PE, LEED ®AP, engaged in stormwater management analysis for the site. Bentley Crossings represents a significant effort in designing a development program for a parcel between the urban/suburban activity found in Lehigh Acres and the rural uses existing in Buckingham. The hard work done by interested residents, constructive efforts by Lee County Staff, and the genuine interest of the property owners to create a development consistent with the County requirements compatible with surrounding uses represents a balance among the various competing interests found in modern Lee County development programs.
The Beach Club at Gasparilla Inn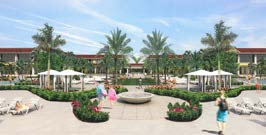 The Gasparilla Inn is developing a new Beach Club adjacent to the existing Inn and has asked Morris-Depew Associates to assist. The ± 10.3 acre property is at the western edge of the Boca Grande Historic District. The new facility will consist of conference spaces, dining, a fitness center with classes, salon and spa as well as two pools, tennis courts, gazebo and an amazing view overlooking the Gulf of Mexico.  David W. Depew, PhD, AICP, LEED® AP, Ryan Shute, PE and Michael Ekblad, PLA are assisting with the preparation of site development plans, requests for zoning relief, enhanced landscape plans, and representing the development's design at the Gasparilla Historic Preservation Board to secure a Certificate of Appropriateness. Mark Hatfield, PLS has also provided surveying services for all of the properties owned by the Gasparilla Inn. The entire project team collaborates with Tim Krebs from TA Krebs, LLC to ensure consistency and compatibility with the proposed architecture and the character of the Boca Grande Community.
San Carlos Estates receives Florida Department of State Recognition
The San Carlos Estates Water Control District was recognized in June by the Florida Department of Environmental Protection (FDEP) for their complete implementation of the storm water treatment program as a co-permittee with Lee County and Bonita Springs in the National Pollution Discharge Elimination System (NPDES) program.  The District received this recognition for program compliance efforts through 2014 Annual Monitoring Report review.  Morris-Depew Associates has served as the District Engineer since 2000.  Bill Morris, PE, LEED ®AP,  and Mark D. Howell, PE, have actively worked to economically implement the ever-evolving NPDES program requirements with the FDEP and San Carlos Estates' Board of Supervisors and Staff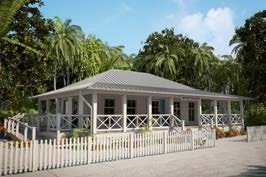 Morris-Depew Associates assisted with the redevelopment of a flower shop in a historic structure located at 411 Palm Avenue on Boca Grande. Located at the edge of the Boca Grande Historic District, the original structure was constructed in 1979 and redevelopment was required to comply with Historic Preservation regulations. Tina Ekblad, MPA, AICP, LEED®  AP, Ryan Shute, PE and Michael Ekblad, PLA assisted the property owner with site development plans, requests for zoning relief, enhanced landscape plans, a certificate of appropriateness and coordination for a positive Historic Preservation Board vote. Mark Hatfield, PLS,  also provided surveying services. Architectural renderings for this project provided by Konstant Architecture Planning.  Together, the Morris-Depew Team was able to secure the necessary zoning and development services approval for the redevelopment of the flower shop, just in time for a season opening.
Gulf Coast Medical Center Expansion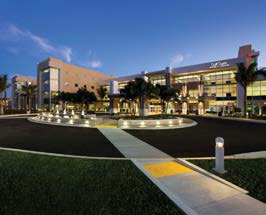 Project Update – Project Manager, Bill Morris, PE, LEED® AP, Planning Director, Tina Ekblad, MPA, AICP, LEED® AP, and Landscape Architect Director, Michael Ekblad, PLA, are currently working on what is the first phase of the development of the next expansion of the Gulf Coast Medical Center campus.  The ultimate project includes adding three-stories to the existing structure to support an additional 275 beds to bring the hospital facility up to 675 beds total.  While the final completion of this expansion will not be completed until sometime in 2020, the first phase is being considered to alleviate parking congestion that could occur during construction.
Morris-Depew Associates has been involved with the Gulf Coast Medical Center project since 2003 when the last expansion project was initiated.
This initial phase of the project, once approved, will permit the construction of a 1,300 space parking garage that will allow the facility to free up areas of the campus that will be needed to stage later construction efforts.  Mr. Morris and Mr. Ekblad are working with HKS Architects, construction manager Skanska-Gates, garage builder Finfrock, and Lee Memorial Health System staff to develop the design that will efficiently utilize the available space on the campus with an emphasis on ease of access and pedestrian safety.
Initial discussions with permitting agencies has been very positive for this endeavor and we are pleased to be working on such a worthwhile project for this community.