Morris-Depew Associates, Inc.
Winter 2018 – Newsletter
As we close the year and prepare for the holiday festivities ahead, we want to extend a special thank you to our clients, friends and community leaders for your continuous partnership. Your support allows us to continue creating meaningful and impactful projects throughout communities we serve.
Below are a couple of highlights from projects this year.
Please also note, our offices will be closed December 24 through January 1. Offices will reopen on Wednesday, January 2. Happy Holidays! 
Future plans for Plantation Health Care Campus - Intermed Phase II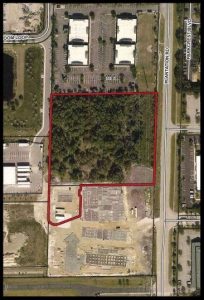 Bill Morris spearheaded efforts to seek approval for a commercial planned development amendment that will integrate an additional five acres into the south east region of the Gulf Coast Medical Center campus for future medical office use. The project received recommendation by the Hearing Examiner and was approved by the Lee County Board of Commissioners.
As part of Intermed Phase II, proposed plans include 100,000 square feet for medical use and 20,000 square feet for commercial retail use, along with a centrally located parking structure to support the mixed-use development.
The approval comes at a pivotal moment for Lee Health as its new 75-bed skilled nursing unit on the GCMC campus will soon be complete in January. Bill Morris was also part of the consultant team that worked extensively to secure the Development Order approval of the skilled nursing unit, and facilitated services with Director of Surveying Mark Hatfield for surveying during permitting and construction phases.
The new Intermed medical campus provides the opportunity to support the new skilled nursing unit with ancillary services.
Construction of first phase of Meridian Center North Complete
MDA secures permits for next phase: Meridian Center South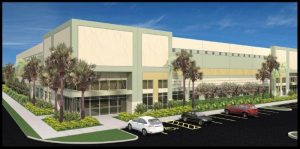 Knott Realty has recently completed construction of Meridian Center North, the 200,000-square-foot warehouse and distribution facility located on 15 acres at 10400 Meridian Center Parkway in Fort Myers.
The team at Morris-Depew Associates worked closely with Knott Realty to provide civil engineering, land planning, site design, landscape architecture and land surveying and mapping services. Director of Surveying Mark Hatfield and his team also completed survey and mapping services, including boundary and topography surveys to identify borders and collect data about the elevations and features of the land to ensure a structurally sound building on the property.
As part of the land planning work, parcels on the property were rezoned from agricultural to MPD. Additional rezoning efforts were coordinated for other parcels of the property to support additional space for industrial use.
The team also provided infrastructure zoning and permitting services to ensure approved commercial usage as well as construction staking and platting to ensure site dimensions and correct positioning for the new structures on the property.
Partner and Civil Engineering Senior Manager, Ryan Shute and his team have recently secured permits for phase two, Meridian Center South. The light-industrial warehouse will have approximately 160,000 square feet. Construction is scheduled to being early 2019.
"We're excited about these two new buildings as they've been engineered to satisfy the real estate need for businesses involved in manufacturing, distribution and e-commerce, which is growing substantially each day with the continued growth of online shopping," said Ryan Shute. 
Largest industrial complex developed in over a decade in Lee County one step closer to reality
Further expanding the regional demand for commercial space near the airport and I-75, the first building in the Premier Airport Park will be complete in the first quarter of 2019. The 105,000-square foot commercial building is being developed as part of the 225-acre site, which will contain 1.875 million square feet at build out.
Located off Airport Haul Road, which is north of Alico Road and east of Ben Hill Griffin Parkway, the complex is also anticipated to be the largest distribution center developed in Southwest Florida in the past decade. The project, with 32-foot-clear ceiling heights, ESFR sprinkler systems, ample truck courts and other features will provide space currently lacking in the region.
All MDA divisions – civil engineering, land planning, landscape architecture and surveying – contributed to the project.
A look into the future of The Gasparilla Inn & Club
The Gasparilla Inn is one of the largest surviving resort hotels in Florida. Located on Boca Grande, The Gasparilla Inn's founders and patrons understood the delicate challenges of building the village without destroying the natural wonders of the island, from its fishing preserves to sugary sands.
In 2015, Morris-Depew Associates was tapped to assist with the development of a new Beach Club that today sits adjacent to the existing inn. Gasparilla Inn will soon enter into another phase of improvements following a recent unanimous approval by the Boca Grande Historic Preservation Board. Tina Ekblad, Planning Director and Partner at Morris-Depew Associates presented plans, which include renovations to the Beach Club, new family-friendly cottages, adding new and improved fitness amenities, such as a yoga room and meditation garden, a new fitness pool and expanding capacity for parking. The project will also closely focus on blending the new buildings with the old to preserve the historic feel of the property.
MDA receives approval for plans to expand Bear Creek development in Walton County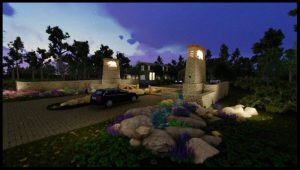 Continuing to expand its footprint in North Florida, Morris-Depew Associates has been working with JMB Freeport, LLC in Destin, FL to redesign the third and largest phase of Bear Creek, an existing and partial developed single-family residential community located near the scenic highway 30A and the beaches of South Walton along the Emerald Coast.
Tasked with recreating a lifestyle community that incorporated the previous development phases, MDA prepared a development scheme that will add 351 single lots on 219 acres, numerous amenities, and walking trails while respecting the heritage and pine dominated environment of the County.
Working within the natural function of the landscape, MDA created a site plan that provided every lot with a preserve view or a view overlooking one of the tributaries of Bear Creek, the community's name sake.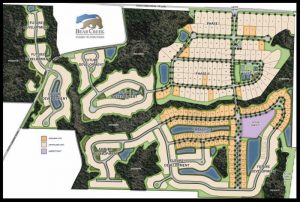 Plans also include nearly 1.5 miles of nature trails connecting the residential development pods, three amenity centers complete with lifestyle elements like pools and sport courts, a large dog park, and a stormwater management system that integrates walking trails and existing native landscaping.
The major development order application was submitted by Director of Landscape Architecture Michael Ekblad, who presented the plans to subdivide four parcels into 351 residential lots. The Walton County Board of Commissioners provided approval for Phase III-A of the project, which is expected to begin construction in 2019.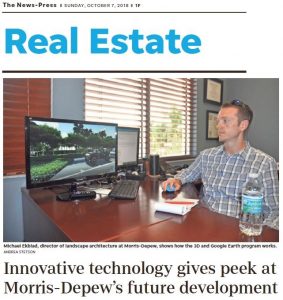 This season, we also shared with The News-Press an inside look at how we're bringing the latest technology advancements into the planning process for development. Advances in technology have allowed us to combine 3D imagery with real-time images from Google Earth to produce detailed images of buildings, streetscapes and more for use in hearings and presentations to City Council.
While technology, such as virtual reality, drone imagery and computer walk-throughs have become more common the last few years, this technology is different because it places the detailed image of the building into Google Earth to give it an almost live look at how a future development would appear.
"Not only do we model from height and mass, but first-person shooter," explained Landscape Architecture Director Michael Ekblad. "The hope is this technology will help with permitting and zoning processes to help further illustrate future plans."
---
We wish you the happiest of holidays
and a wonderful New Year!