Morris-Depew Associates, Inc.
Spring 2021 – Newsletter
This time last year, we were responding to the changing dynamic of an unprecedented pandemic, re-evaluating operations, and seeking out new ways to ensure our community continued to thrive. Today, we are seeing the result of our continued commitment to client service, and the realization of new projects that will have long-lasting benefit for our economy and community.
Over the last several months, we've welcomed new team members, continued our focus on integrating innovative technology, and completed a myriad of multidisciplinary planning and design projects. Read below to learn more!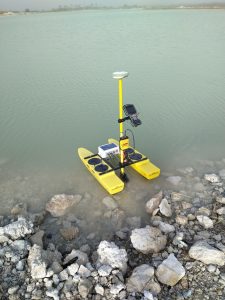 Innovative technology is at the forefront of our client success: From creating new 3D imagery to help capture real-time visuals for a project, to integrating new instruments and tools to ensure the foundation of a project is secured.
We recently introduced a new hydrological instrument – the HyDrone – to our survey department. This instrument collects water depth, lake bank slope and bottom topography data for Hydrographic Surveys to help detect or mitigate location of possible obstructions and physical features of water bodies.
This technology also enables data collection to occur in a variety of weather conditions ensuring timely delivery of surveys as required for Stormwater Management Systems, Deep Lake Management Plans and Mining Annual Monitoring Reports – all services provided by our team of experts.
As part of the City of Fort Myers' Capital Improvement Program, Evans Avenue recently underwent extensive roadway enhancements to improve mobility, function and access to support travel in and around Downtown Fort Myers. The MDA team led redesign efforts for an older part of the street as well as provided engineering services to support roadway improvements, including replacing utilities, water and sewer lines connecting to nearby residences.
The survey department also helped establish boundaries and construction staking for the 1/4-mile road improvement project. The firm provided construction-related services during the build out, which was recently completed by Stevens Construction.
The project team was led by Chairman and Director of Engineering of Morris-Depew Associates, Bill Morris, P.E. with Mark Howell, PE. serving as the Engineer of Record.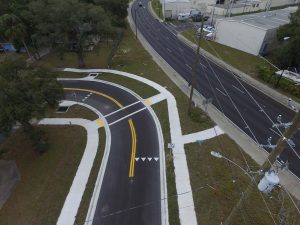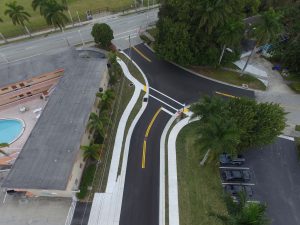 Florida Cancer Specialists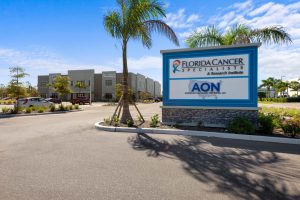 Florida Cancer Specialists is one of the leading healthcare institutions providing access to world-class cancer care and research. The team at MDA has had the privilege of working with a myriad of Florida Cancer Specialists locations throughout the Southwest Florida region to provide a complete scope of development permitting services including due diligence, engineering, landscape, planning and surveying. Most recently, the team supported plans for four locations: Fort Myers-Colonial Office, Estero Office, Global Parkway (an FCS & American Oncology Network office) and North Port office.
While each location provided their own set of parameters for size and scope, with varying challenges – from irregularities in shape, conservation land considerations to rigorous municipal architectural requirements – the end result at all locations was a harmonious site and building design that exceeded client expectations.
Additional support services provided by Morris-Depew included obtaining a multitude of permits for development, providing design, engineering, and digital perspective imagery support for an enhanced Healing Garden [at two locations], and comprehensive landscape architectural plans to accommodate nuances related to parking, drainage considerations, and a public art component required by the City of North Port.
Lead team members included:
Colonial: Project Manager and Engineer, Stephen VerVaecke, PE, Landscape Architect Matt Lincolnhol, PLA.
Estero: Co-Leads Jack Morris, Engineering Project Manager, and Stephen VerVaecke, Engineer, Michael Ekblad, Director of Landscape Architect, with support from Cory VerVaecke and Taylor Maggiorani.
Global Parkway: Co-Leads Ryan Shute, Director of O
perations & Engineer and Stephen VerVaecke, Engineer, as well as Michael Ekblad, Director of Landscape Architect, with support from Cory VerVaecke and Taylor Maggiorani.
North Port: Project Manager and Engineer Stephen VerVaecke, Landscape Architect, Matt Lincolnhol, with support from Cory VerVaecke, Taylor Maggiorani and permit coordination by Amber Francisco.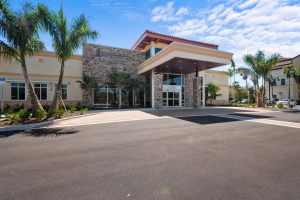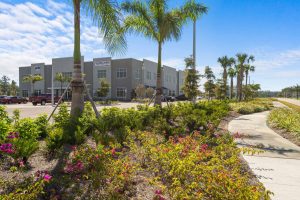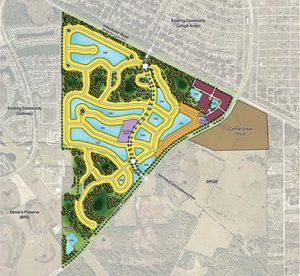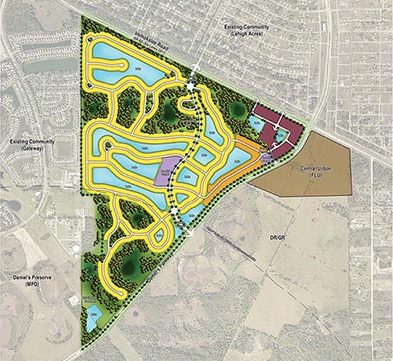 Construction is underway and the first residents have already begun to move in to Timber Creek by Lennar. Located at the west corner of State Road 82 and Daniels Parkway, Timber Creek is one of the area's newest residential communities expanding options for eastern Lehigh Acres-Fort Myers homeowners. Following a multi-year comprehensive plan amendment process that was approved by Lee County, Morris-Depew Associates secured development permits for the mixed-use project.
Set on 654 acres, Timber Creek will have 1,315 residences at buildout. There are twin villas, executive homes on 40-foot lots, manor series homes on 50-foot lots and estate homes on 60-foot lots.
All of Morris-Depew Associates' departments collaborated in the design and permitting for the community.
Currently, our Civil Engineering team is overseeing construction services for the second amenity and phase three construction currently underway. The community will offer an expansive amenity program, including a resort pool and a separate lap pool. There will also be a putting green, an outdoor sand volleyball court, indoor volleyball, both indoor and outdoor basketball, an exercise room, clubhouse, tennis and pickleball courts, a sunset terrace, a community fire pit, arcade, playroom, grill room, outdoor dining, fitness center, sauna, coffee lounge, aerobics room, social room, pool cafe and a clubhouse.
We're proud to be a part of seeing this vibrant new community come to life.
Bear Creek in Walton County
Further up the state, the MDA team is spearheading design plans for Bear Creek development – a beautiful, walkable community on the Emerald Coast of Florida.
From the entry and amenity designs to the comprehensive landscape architectural plan and engineering plans, the MDA team created a plan for this iconic community that respects the area's rich heritage and existing native landscaping. The community boasts various open green spaces, trails, lake and preserve views, and more.
The professionals at Morris-Depew Associates recently received permit approval from the City of Freeport Utilities on the phase 3A at Bear Creek, and approval for the minor development order from Walton County on the Phase 3A amenity.  We are another step closer to seeing the next phase of this new community come to life.  Additional phases of the development are expected to come later this spring, and will allow for an additional 97 rooftops, amenities, and walking trails.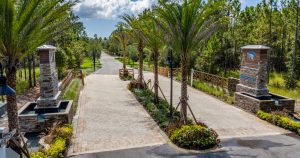 Join us in welcoming to the team the following associates.
Amber Francisco, Permit Coordinator
Known for her ambitious and driven work ethic, Amber has extensive knowledge and experience in all facets of contracting, permitting, insurance and business administration. She previously served as a contract administrator for one of the largest private real estate development company's in the state.
Timothy Bailey, Cad Operator
A graduate of Johnson College with a degree in AST in Architectural Drafting and Design, Timothy has more than 25 years of experience supporting projects in civil engineering.
Danielle Lansiquot, Receptionist
A native of Ohio, Danielle is a dedicated team known for her detail-oriented and motivated spirit.
KUDOS
A big congratulations also goes out to three team members who recently achieved professional designations in the engineering and landscape architecture division.
Matt Lincolnhol received his Professional Landscape Architect license.
Stephen VerVaecke, Assistant Project Manager and Project Engineer, received his Professional Engineer license.
Kyle Knight, Project Engineer, recently passed his test and will soon receive his Professional Engineer license.