Morris-Depew Associates, Inc.
Fall 2019 – Newsletter
Portico by Lennar receives approval for additional units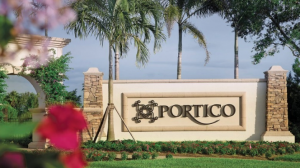 As part of Morris-Depew Associates' ongoing land planning work with Portico, Planning Director and Principal Tina M. Ekblad, AICP recently worked with the developer to secure a Comprehensive Plan Amendment for the master-planned community located in the Caloosahatchee Shores Community in Lee County. This 589-acre community is being developed by national builder Lennar Homes, and recently received approval to amend the Portico Residential Planned Development (RPD) to add 422 units (1,600 dwelling units total) and modify the Master Concept Plan (MCP), Schedule of Uses, Property Development Regulations, and Deviations.
The Board of County Commissioners approved the additional residential units as well as additional housing types and two more deviations, noting the residential uses are ideal at this location. Increasing density within the Portico RPD serves as infill development within an existing subdivision to promote a compact growth pattern and contain urban sprawl. MDA's request on behalf of the developer was found compatible with existing and planned uses in the surrounding area.
MDA also helped steward public support and participated in community meetings for both the Caloosahatchee Shores Planning Community and Buckingham Planning Community to address any questions or comments regarding traffic impact and flooding.
Florida Cancer Specialists expands to Estero with support from MDA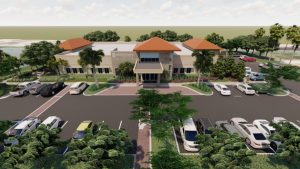 Over the last five years, MDA's Landscape Architecture team has continued to elevate Florida Cancer Specialists' outdoor areas with inviting and patient-friendly walkways and green spaces. Previous work at their Metro location included execution and design of their exterior spaces. More recently, the firm has been secured to lead landscape architecture design at Florida Cancer Specialists' next location: an infusion center to be located east of US 41 and south of Pelican Colony Blvd., adjacent to Extra Space Storage.
The facility will include a single-story building with a public space healing garden. Landscape Architecture Director Michael Ekblad created an outdoor setting that extended frontage sidewalks for better pedestrian access, along with decorative pavers in the sidewalk adding design appeal.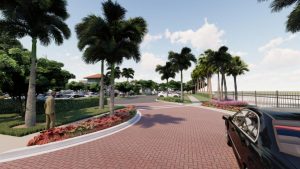 Complementing the building's architectural elements of natural stone, stucco, and tan and white accent trims, the Landscape Architecture team created a natural design element with added trellises to the back of the building along with decorative buttons over the windows.
The existing buffers will be maintained and royal palms will be added to flank the drive entrances.
Accent palms and soft plant materials will be added along the entrance to the building and in the healing garden. Following public input, plans were also updated to remove a wall originally planned in the garden to allow better viewing of the adjacent lake and added palm trees for shade.
Development order plans have been submitted and are currently being reviewed by the Design Review Board.
EXPERT TESTIMONY & LITIGATION UPDATE: Palm Beach County and the Town of Palm Beach vs. City of West Palm Beach
As a result of the Planning Department's existing relationships in the Palm Beach area (Assistant City Administrator Richard Greene and Planning Director Tina Ekblad previously worked together at the Village of Wellington), litigation expert and Founder Dr. Dave Depew was retained by the City of West Palm Beach to assist in the defense of comprehensive plan amendments challenged by the Town of Palm Beach, Palm Beach County, and a private entity, "222 Lakeview."
The involving issues put into question West Palm Beach's efforts, under the guidance of Administrator Greene, to redevelop its downtown area as a pedestrian friendly, alternate transportation network. One of the primary questions the litigation addressed was whether the data and analysis supporting the amendment were methodologically acceptable and maintained internal consistency of the City's Comprehensive Plan. To assist City Attorney Kimberly Rothenberg, Dr. Depew sat for deposition and testified at the trial on behalf of the City.
The presiding judge, Judge Folkes ruled the City's amendments were consistent with the City's comprehensive plan, Chapter 163 of the Fla. Statutes, and that no internal inconsistencies had been created. Upon appeal of Judge Folkes decision, the Governor and Cabinet upheld the ruling.
SNEEK PEAK: SANDESTIN MINI GOLF COURSE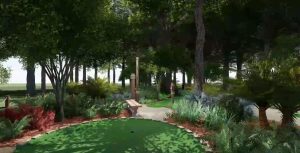 We've been busy at work working on a variety of projects, including a new golf course in the Sandestin area that will preserve the rich and natural foliage throughout while creating a fun and immersive experience for residents and guests.
We've put together a sneak peak 3D video to give you an inside look at the project underway.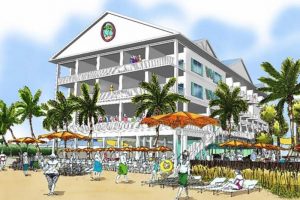 MARGARITAVILLE
Following more than four years of planning, preparation, presentation and public outreach, MDA is proud to stand by the 20th Circuit Court's recent ruling in favor of TPI Hospitality and the town of Fort Myers Beach, lifting the last existing hurdle for the Margaritaville Resort development project. We're thankful to have been a part of the process and look forward to its positive impact for the Town of Fort Myers Beach.
Read more HERE.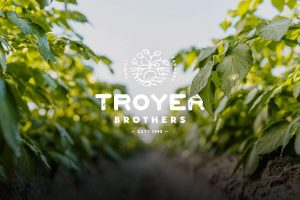 On Wednesday, Aug. 21, Lee County Commissioners voted in favor to adopt the proposed rezoning of the Troyer Brothers property along State Road 82 to permit a mining operation. After three-and-a-half years of thorough review and analysis by Lee County of project applications and expert studies for the Troyer Brothers Mine, we welcome the opportunity to move into the next level of rigorous federal, state, and local review of the proposed limerock mine.
Read more HERE about how our team played a part.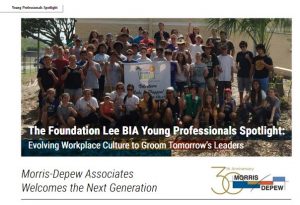 The MDA team was recently featured in the summer edition of LBIA's "DIRT" issue. Over the last three decades, the firm has focused it efforts on creating meaningful places the positively impact our community. The team took an inside look at how its corporate philosophy also impacts corporate culture for the next generation of team members at MDA.
Read more HERE.