Morris-Depew Associates, Inc.
Winter 2020 – Newsletter
With the holidays upon us and a new year ahead, the Morris-Depew Team is reflecting on 2020 and the significance of all that has transpired this year. We appreciate the opportunities 2020 has brought and are thankful for the trust our clients have placed in us to bring their visions to life.
While some projects are underway, others are getting started and some are coming to completion, we at Morris-Depew Associates are also evolving, adapting and expanding in an exciting way.
In this end-of-year newsletter, you'll learn more about our important corporate restructuring and strategic growth, hear more about an important transition of one of our founders, and celebrate with us a number of community-impact projects.
It's truly been a year for the record books, but as Benjamin Franklin once said, "Out of adversity, comes opportunity." We are discovering new ways to connect, innovate and create – all in an effort to better serve our clients, our community and our industry.
A friendly reminder: Our offices will be closed December 25th and will reopen Jan. 4, 2021. Our COVID operations also remain in effect until further notice, including limited in-person meetings, virtual appointments and social distancing.
We wish you and your family a Happy and Healthy Holiday Season!
Morris-Depew Associates Looks Ahead to 2021
What started in 1989 as a vision created by founders Dave Depew and Michael Morris has grown into a comprehensive multidisciplinary firm recognized as one of the top consulting engineering and land planning agencies across the state.
More recently, under the leadership of Partners Tina Ekblad, Bill Morris and Ryan Shute, MDA has seen tremendous growth. As a result, we have responded to the changing dynamics of our region by expanding our services and integrating a multidisciplinary, collaborative approach to the land planning, permitting and design process that has proven beneficial for our clients.
We've brought in exceptional talent, rounded out our leadership team with professionals who have a depth of knowledge in their specific field, and taken a long-term approach to exceeding client expectations.
As we look ahead to our own future, we also acknowledge our past, and are grateful to our co-founder, Dave Depew, for his dedication and commitment to the firm over the years. He has been a valued part of this team, and we wish him well on his retirement from Morris-Depew Associates.
This year also closes another chapter of our history with Mark Hatfield, who has served as Survey Director for nearly 15 years. We wish him all the best on his retirement journey.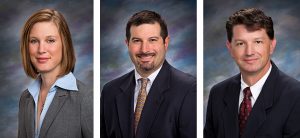 In a year of transformation, it's also appropriate that we share an important operational change. We are excited to announce the formal transition of our new executive leadership:
Tina M. Ekblad, AICP
President & Director of Planning
Bill Morris, PE
Chairman & Director of Engineering
Ryan Shute, PE
Director of Operations
The last several years have allowed for an optimal transition for our leadership to observe, learn and step into their new roles. This means, our clients won't experience any change in operational excellence.
What has transpired during this time is a focus on expanded operational processes, more efficient methods, enhanced budget forecasting and robust service reporting.
We've also welcomed new clients and expanded services for others including the Destin and Delray Beach areas. We've expanded the team in Fort Myers in response to growing engineering and planning department needs. Welcomed Michael Rooks as the Director of Survey and incorporated Michael Ekblad, the Director of Landscape Architecture, into the firm's Leadership Team.
During such an unprecedented and transformational year, we are seeing a resurgence in development, continued investments in commercial and industrial, and a greater emphasis on environmental stewardship. We have enjoyed rising to the challenge of designing and permitting the communities of tomorrow and look forward to the continued growth in the year ahead.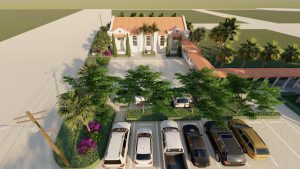 Our Lady of Mercy Catholic Church on Boca Grande island will be adding a new 3,642-Square-foot Parish Hall and covered walkway connecting to the existing church building on site. This project presented some unique challenges related to its location in the Boca Grande historic district as well as the conversion of a single-family parcel into the supporting new Parish hall.
The projects building architecture and landscape architecture focused on enhancing the historical elements already located on the site, by paying homage to the Old Spanish Mission architecture and landscape elements of the original 1950's church. The new formal gardens fronting West Railroad Avenue and parking lot reinforce the classical design language by paying tribute to historical European gardens using symmetrical low hedges laid out in formal shapes.
The Morris-Depew Team with Plunkett Raysich Architects were able to successfully navigate numerous layers of permitting to expand the existing church campus and establish a charming Parish hall for the Church's growing base of parishioners. The Morris-Depew project team was led by Tina M. Ekblad, MPA, AICP, LEED AP on Planning, Bill Morris, PE, LEED ® AP on Civil Engineering and Michael Ekblad, PLA on Landscape Architecture. Additional team members included Principle Planner Heather Urwiller, AICP, CFM, Design Engineer Kyle Knight, EI, and 3D Modeling and Landscape Design by Taylor Maggiorani. The Team was recently recognized with a Summit Award at the 2020 Lee BIA Industry Awards for Best Commercial Non-Built Design Project.
Hampton Inn Downtown Fort Myers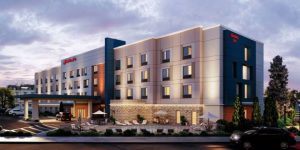 Located at the SW quadrant of the "Five Points" intersection with McGregor Blvd and Cleveland Avenue, this redevelopment project is scheduled to break ground soon. After several failed attempts for development, HOS Management/ Development out of Atlanta brought the project team of BASE 4 Architects and Morris-Depew Associates to design and permit the proposed five story, 111-room Hampton Inn hotel.
The Morris-Depew project team led by Bill Morris, PE, LEED ® AP on Civil Engineering and Michael Ekblad, PLA on Landscape Architecture also included Design Engineer Paul Torocco, EI, and Landscape Architecture Staff Matt Lincolnhol, PLA and Taylor Maggiorani with Permit Coordination support from MarySue Groth.
Due to the unique triangular shape of the site, the project required creative design to provide supporting water management and parking infrastructure while maintaining the existing established heritage trees on-site. The project's three street frontages also necessitated extensive collaboration with the City of Fort Myers to address the design requirements of the Downtown Overlay as well as FDOT for Access and Drainage approvals.
Corkscrew Estates (formerly Corkscrew Ranch site)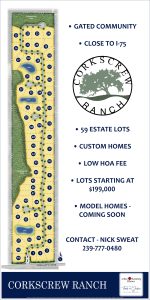 A new community is coming soon in the desirable Corkscrew Corridor. Corkscrew Estates (previously referred to as Corkscrew Ranch) by Pulte Homes will offer 59 exclusive new estate homesites of nearly an acre, most with views of the community's nature preserves, lakes, or both. The lushly landscaped neighborhood will feature long, elegant paver-covered driveways complementing a selection of newly designed and Pulte home designs.
Morris-Depew Associates' land planning, survey, engineering and landscape architecture team has had a longstanding history with this location. From its earlier days as an agricultural site, to its current use for residential, the firm's experienced and knowledgeable professionals have helped guide the transition of uses and density to realize the possibilities for this new community.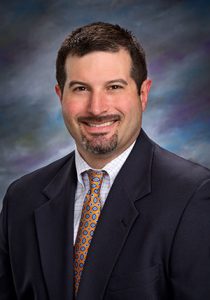 Morris Selected President of REIS
Please join us in congratulating Bill Morris on his new appointment as president of Real Estate Investment Society.
A member of the board since 2015, Bill has helped expand membership, program focus and increase awareness on pertinent issues related to the real estate industry.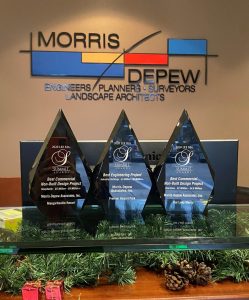 MDA Awarded Top Honors at Lee BIA Industry Awards
MDA is rounding out the year with three Summit Awards presented at the 2020 Lee BIA Industry Awards. Summit Awards are attributed to BIA Members who have achieved a high level of quality and success in commercial building. The following projects were recognized for their engineering, landscape architecture, and/or planning efforts.
Margaritaville Resort
Best Commercial Non-Built
Design Project (Hospitality)
Premier Airport Park
Best Engineering Project (Industrial)
Our Lady of Mercy
Best Commercial Non-Built
Design Project (Churches)
Congratulations to all the project teams involved!