Morris-Depew Associates, Inc.
Spring 2020 – Newsletter
For more than three decades, the team at Morris-Depew Associates has been working to find creative solutions to difficult problems. Whether by using innovation to create forward-thinking results, or collaborating with other teams to develop new outcomes, MDA has made it their mission to help keep our communities thriving. We remain committed to serving you during these challenging times, and will continue to push forward projects that will have long-lasting benefit for our economy and community. Here's an update on some of the projects recently completed by the team.
Lee BOCC unanimously approves Comp Plan Amendment and Rezoning for Verdana Village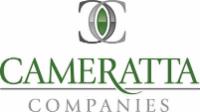 The Corkscrew Corridor in South Fort Myers has become one of the most desirable locations for new residential development. Once known for its remote location, citrus farmland and mining operations, today, this area is comprised of stunning family-friendly communities, amenities, shops and more. For the last three decades, the team at MDA has been on the frontlines helping steward the careful planning and vision for dozens of communities throughout Florida while balancing function, conservation and beauty.
Working in partnership with leading developer Cameratta Companies, the Land Planning team at MDA recently helped guide the unanimous approval of the Comprehensive Land Use Plan Amendment and Rezoning for Verdana Village along Corkscrew Road. The approval consolidates 2,138 acres into a uniform development balancing residential and commercial needs with environmental restoration. The team helped address uses, benefits and conditions to support the EEPCO text amendment to establish limited commercial uses and increased residential density in exchange for additional lands for conservation. The team also provided strategic planning counsel in support of the rezoning from Residential Planned Development to Mixed Use Planned Development (MPD) to allow for up to 2,400 residential dwelling units and up to 100,000 square feet of limited commercial uses.
Land Planning Director and Partner Tina Ekblad highlighted that while growth along Corkscrew Road has perpetuated plans by Lee County to expedite the widening of Corkscrew Road from the existing two-lanes to four-lanes, Cameratta Companies' vision for Verdana Village's commercial space will help alleviate congestion by providing east Estero residents with a centrally located shopping center.
Created with Cameratta Companies' signature environmental focus, extensive conservation plans for Verdana Village include restoration of wetlands, replanting of natives and removal of invasive species, recreation of historic floways, water management and water storage to mitigate flooding, and approximately 1,200 acres of restored conservation lands and 65% overall open space.
The plans were lauded by all commissioners, with Commissioner Ray Sandelli noting "Verdana Village as a perfect example of what the future could look like when all stakeholders work collectively to find a response that satisfies everybody."
Redevelopment Plans Approved for Historic Gasparilla Inn on Boca Grande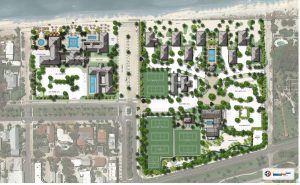 Our hospitality industry is a vital economic driver for Florida, and Lee County. While many hotels and entertainment venues have been devastated by the loss of income from doors shuttered to visitors, we know this industry will return resilient and ready to welcome guests when the time comes. One hotel is preparing now for that day. Gasparilla Inn is one of the longest-running resort hotels in Florida. They've weathered numerous storms and financial crisis in their 106-year history, and have remained steadfast in creating a place long recognized for their commitment to nature, pristine amenities, and a premier visitor experience.
In 2015, MDA was tapped to assist with the development of an expansion of the Beach Club that currently sits adjacent to the existing Inn. If you've been to the Island recently, you see construction is underway. More recently, the firm partnered with the resort to lead Redevelopment Plans for the renovation of the Beach Club and redevelopment of the site for what's considered Phase 2. The plans were presented by Tina Ekblad, Planning Director and Partner at MDA, and approved and supported by County staff and the Boca Grande Historic Preservation Board. The enhancements to the existing Beach Club focus on several key features, including more accessible open areas, repurposing existing interior spaces for meeting rooms, improving parking and landscaping, building enhancements and more. Other notable additions include three new swimming pools, private beach access locations, an internal sidewalk and lawn. The MDA team has worked to ensure all improvements will blend with the current aesthetic of the recognized hotel to preserve the historic feel of the property.
Land Planning, Survey, Engineering and Landscape Architecture departments all contributed to the project. Each department set forth plans that helped establish land uses, zoning, and visual concepts that helped support the vision for the project.
Premier Airport Park: Newest industrial complex becomes reality
The largest industrial complex developed in over a decade in Lee County is one step closer to reality – and we're honored to have been a part of its journey.
Further expanding the regional demand for industrial space near the airport and I-75, the first two of 14 buildings in the Premier Airport Park complex recently completed construction. The 105,000-square foot industrial buildings are being developed as part of the 225-acre site, which will contain 1.875 million square feet at build out – a size that almost equals the under-air capacity of the Edison Mall in Fort Myers. Located off Airport Haul Road, which is north of Alico Road and east of Ben Hill Griffin Parkway, the complex is also anticipated to be the largest distribution center developed in Southwest Florida in the past decade. More than half of Building 1B has been leased, and will include 183 parking spacing and 36 semi-truck bays.
Our firm had the privilege of assisting with the complex's Zoning and Development Order, and are now continuing to work through individual Development Orders for the ongoing construction for the remaining buildings.
All MDA divisions – Civil Engineering, Land Planning, Landscape Architecture and Surveying – contributed to the project.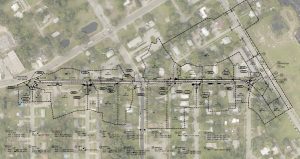 As part of the City of Fort Myers' Capital Improvement Program, Evans Avenue is undergoing extensive roadway enhancements to improve mobility, function and access to support travel in and around Downtown Fort Myers. The MDA team led redesign efforts for an older part of the street as well as provided engineering services to support roadway improvements, including replacing utilities, water and sewer lines. The Survey department also helped establish boundaries and construction staking for the 1/3 mile road improvement project. The firm will continue providing construction-related services during the build out, which is being conducted by Stevens Construction.
Making Moves in North Florida!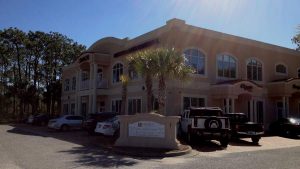 The North Florida office recently moved into a new building space. The new location accommodates the firm's growing menu of services in Walton County. Over the last several years, the firm has expanded its workforce in support of commercial and residential development projects underway throughout the region. The new office location provides greater accessibility off Highway 98 and an optimal set up to enhance team collaborations.
The new office is located at 5597 Highway 98, Unit 201, Santa Rosa Beach.
What can you can expect from us during COVID 19?
Check out our Operational Update on our website to learn more about our commitment to serving you.
Thank you to our Frontline Healthcare Workers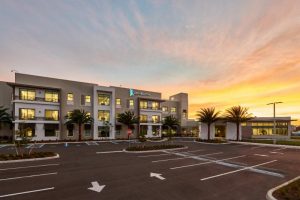 We are tremendously thankful for doctors, nurses, technicians, transporters, EMTs, pharmacists and all other medical professionals who have been working tirelessly to keep our communities safe and healthy. The difficulty and strain these individuals have faced is unlike anything our country has experienced before.
We want to commend our government leaders and healthcare administrators throughout Florida, and especially in Lee County, who have made proactive steps to ensure we flatten the curve and support the downward trajectory of the novel coronavirus (COVID-19). As longtime partners with Lee Health, Morris-Depew Associates is privileged to be part of a team that has added over 200 hospital beds in the area. This has been vital to ensuring comfort and care to the most vulnerable in our community. We thank all those on the frontlines for your dedication, commitment and courage.