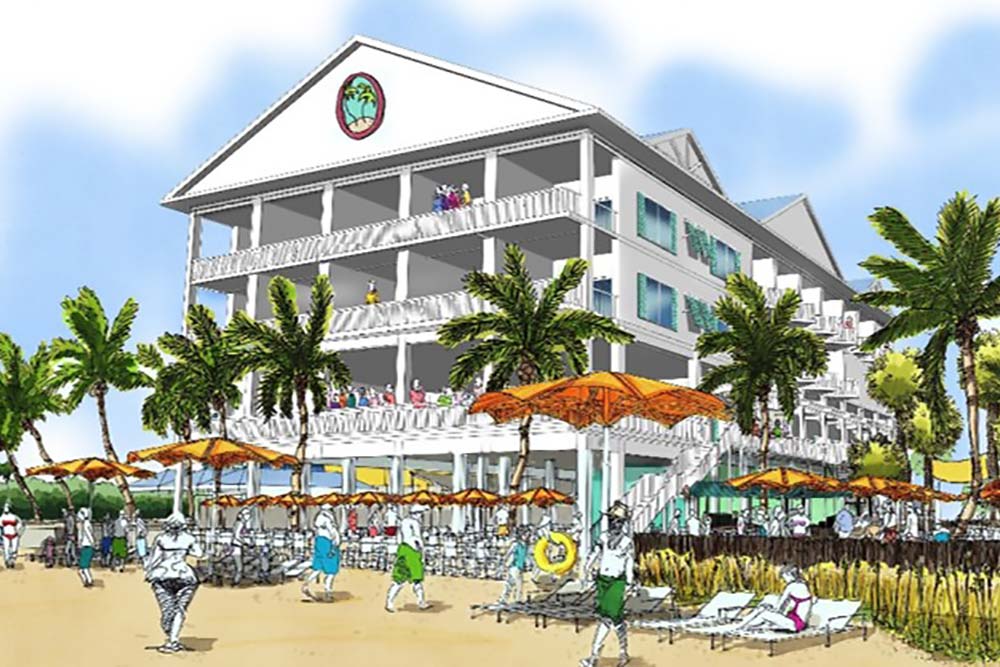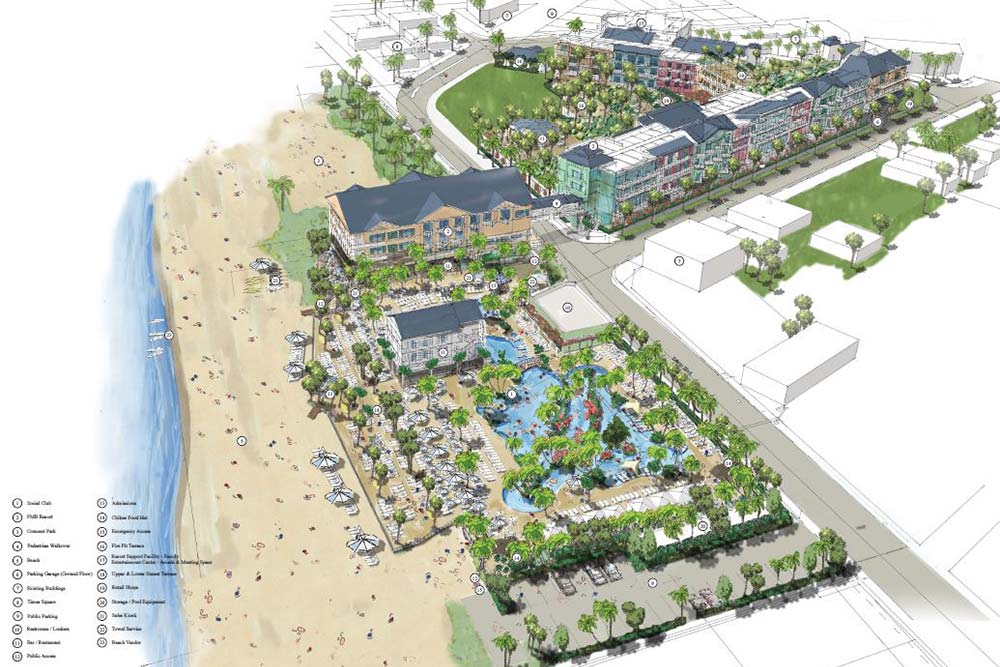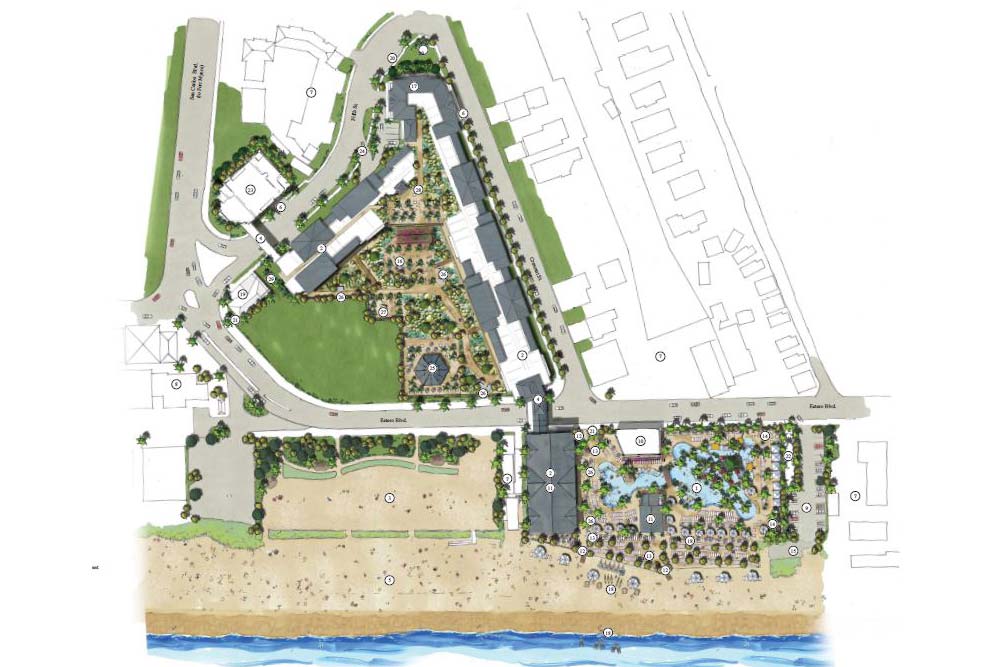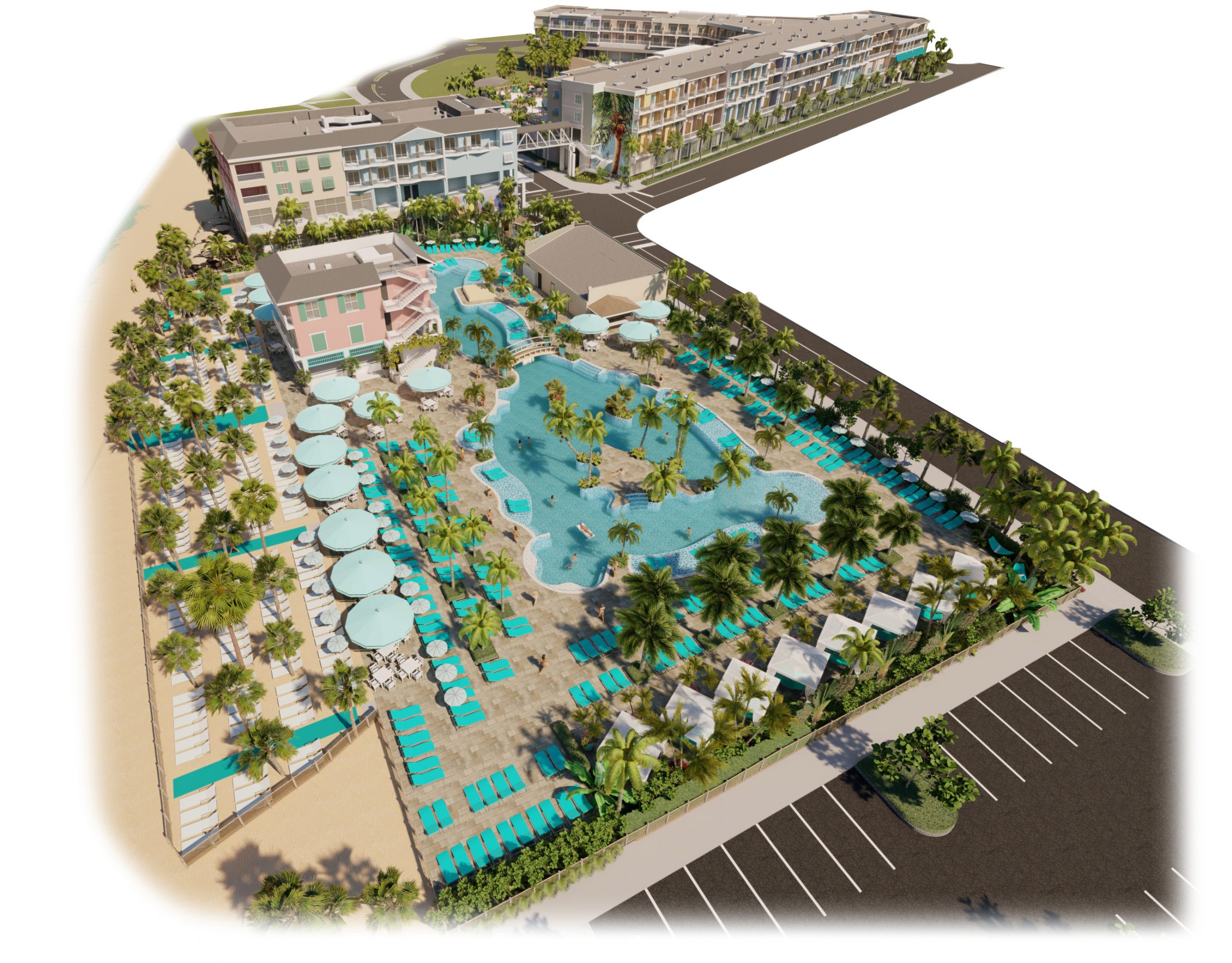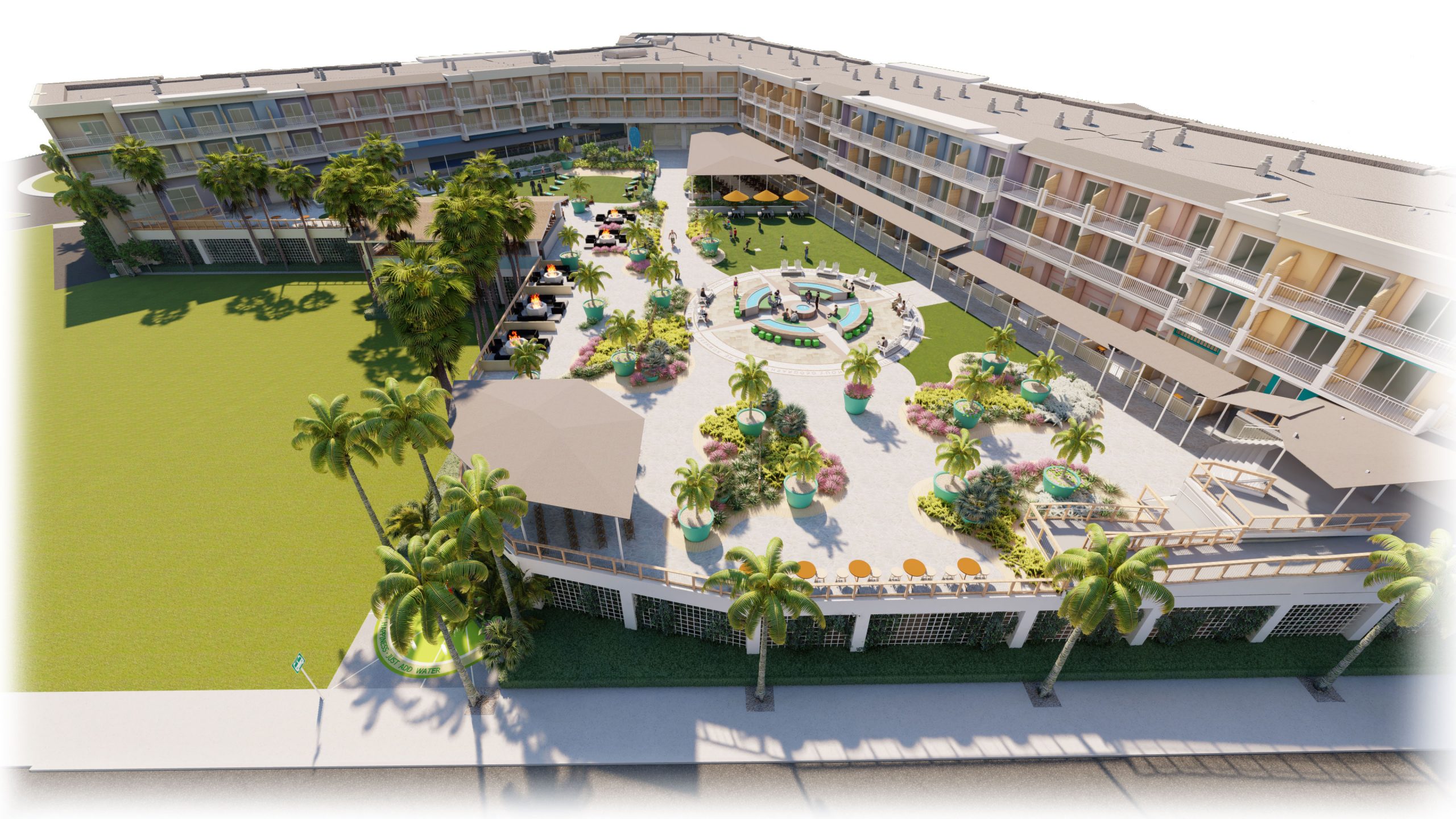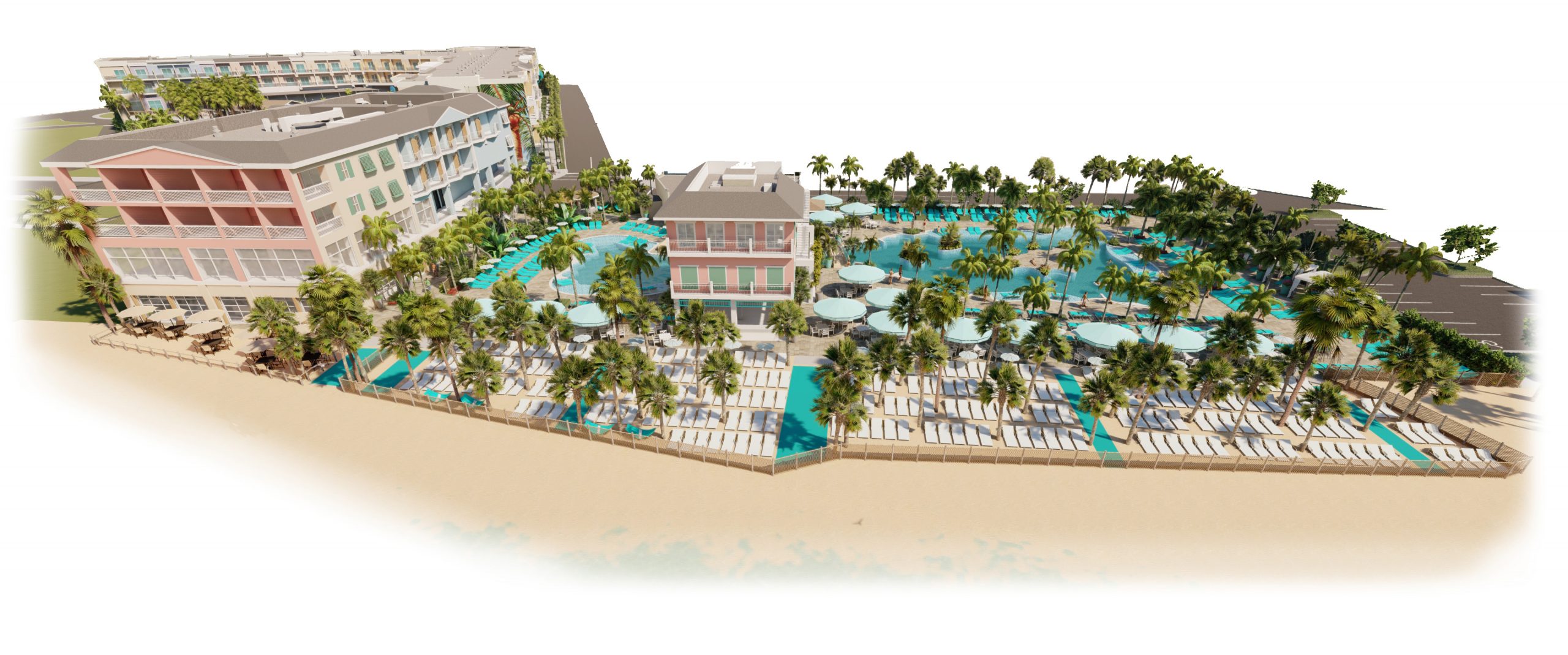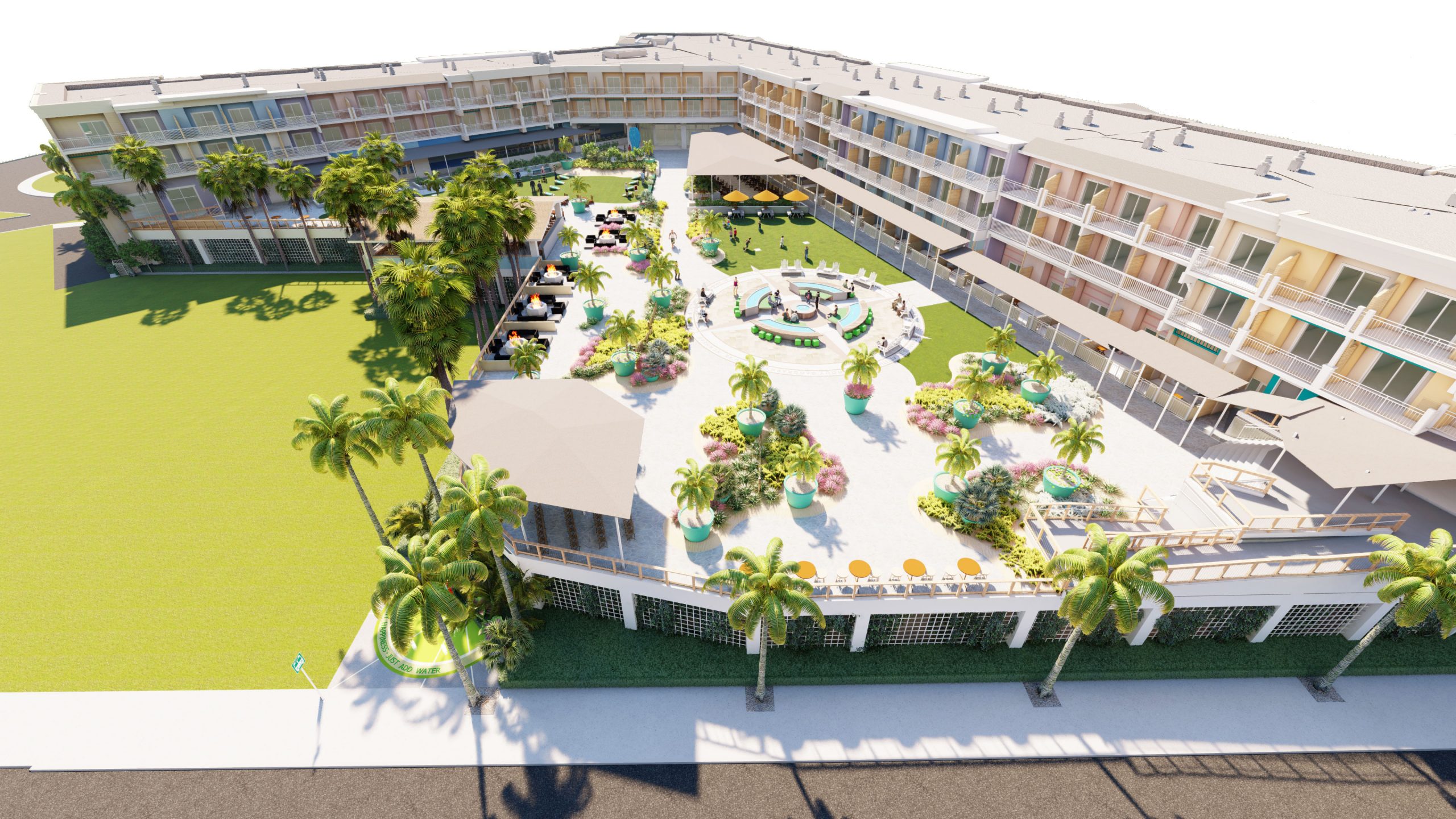 In 2015, Morris-Depew Associates was brought on to help lead design and land use planning efforts for TPI Hospitality's newest endeavor on Fort Myers Beach. TPI Hospitality purchased numerous contiguous parcels at the center of Downtown Fort Myers Beach with the goal of bringing to life a new redevelopment project that would include several beachfront resorts, new food and beverage venues, retail space and multiple beach access points.
Project Summary
After three years of coordination with the Town of Fort Myers Beach, residents, business owners and community organizations, a historical redevelopment project was approved within the Town of Fort Myers Beach at the base of the Matanzas Pass Bridge. The recently approved Commercial Planned Development consists of 254 hotel rooms, a full-service restaurant, and beach club. The approved development also includes the donation of the parcel at the intersection of Fifth Street and San Carlos Boulevard, a 5-foot pedestrian access easement between Estero Boulevard and the Gulf of Mexico as well as a public parking lot with pedestrian access on the South side of Estero Boulevard.
Morris-Depew Associates provided a full suite of services to TPI Hospitality, with preliminary work including survey services to support the initial acquisition of the parcels that make up the 5-acre project.
Over the last three years, the firm has provided:
• Surveying Services – Detailed ALTA surveys for the purchase of all parcels included in the project site. Topography and detailed surveying to determine the location of existing improvements seaward of the Coastal Construction Control Line as well as mean high water to support the design of a Coastal Protection System.
• Conceptual Design and Visualization – the Landscape Architecture division assisted with the conceptual design of the approved commercial development. Multiple perspectives were graphically rendered to demonstrate the proposed development from the street level. Two bird eye view perspectives were also rendered to demonstrate the overall development from the Matanzas Pass Bridge as well as the Gulf of Mexico looking northwest.
• Permitting Services – the Land Planning division managed the commercial planned development request, which included coordination with the project team and Town of Fort Myers Beach staff as well as participation and facilitation of Community Stakeholder meetings. The planning efforts related to the Commercial Planned Development required a detailed analysis of the Town's Comprehensive Plan and Land Development Code to demonstrate consistency with the Town's regulating documents. The team also provided strategic analysis regarding the timeline, hearing schedule, and overall development request.
During the next phase of permitting, Morris-Depew Associates will work to vacate two platted rights of way and many existing platted lots, establish a pedestrian overpass above Estero Boulevard, as well secure the site development permits for the proposed development as well as parcels and improvements to be donated to the Town of Fort Myers Beach.
Related Services
Civil Engineering

Site Development and Permitting

Land Planning

Comprehensive Plan Preparation and Analysis

Permitting and Zoning

ALTA Surveys

Topography Surveys

Mean High Water Surveys

Landscape Architecture

Conceptual Design and Visualization