Mining
Striking a balance between environmental management and mining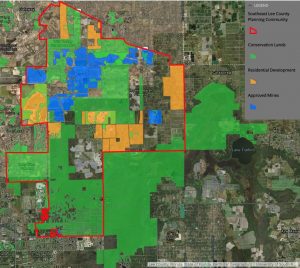 Over the years, mining has sparked vast and varied perspectives on the benefits and impacts on the environment, economy, and development.
While mining will always have an impact on the environment in some capacity, one thing is clear: The responsible management of natural resources and ecosystems such as soils, plants, animals, water and air, and the services they provide, is central to the efforts of any society seeking to become more sustainable.
For more than 30 years, we at Morris-Depew Associates have always strived to strike a balance between smart growth, land owner rights and conservation.
This approach has allowed us to help land owners realize plans for future mining operations or expansion of mining operations that serve as a resource area for high-quality limestone, a place-based limited resource used not only in Southwest Florida but also around the state for aggregate materials. Aggregate materials are the principal component of concrete and asphalt used in the construction of roads, hospitals, churches, schools, homes and government buildings.
Local and state governments use limerock for projects, as does the private sector. Having this natural resource available locally helps keep costs down while keeping jobs and revenues local.
The Southeast Lee quadrant of Southwest Florida has proven to be an optimal area for mining due to its natural resources available and opportunities for environmental enhancement and conservation.
Building on our years of experience in land planning, we have carefully crafted successful plans that purposely preserve high quality interconnected habitats while also identifying areas for limerock extraction where soil boring indicates the resources are available.
Following the 2010 amendments to the Lee Comprehensive Plan, the firm expanded its focus in this region to assist landowners with the transition from mining operations to balanced residential development.
Focusing on properties that had been previously mined and were currently closed, MDA presented plans to the County to showcase the valuable redevelopment opportunities of these properties to further protect natural resources while increasing the tax base of Lee County. The results of these efforts are two different overlays within the Lee Plan enabling residential density in Southeast Lee under certain and clear conditions that reaffirm appropriate environmental protections and restoration are provided.
Projects during this timeframe include: Corkscrew Shores, WildBlue, Timber Creek and CenterPlace.
Each of these properties are clear examples of the measured and innovative steps taken to support the evolution of a mining project underscored by responsible growth management plans.
To learn more about how MDA can assist with your mining operations or residential development plans, please contact our team.
Bell Road Mine
Bell Road mine has historically and continues to produce fine aggregate. Over the last two years, the team at MDA have been working closely with the owners to prepare and submit permit applications that would amend its existing Industrial Planned Development zoning to acquire a one-time, 5-year extension, plus amend the conditions of approval from its 2004 IPD zoning, which details what it can do with the limerock dug from its 40-foot deep pits. In September of 2020, the Lee County Commissioners unanimously approved the permits for the Bell Road Mine on State Road 82. This will allow the mine owners to source and sell much-needed limerock throughout the region as population continues to increase.
In its ruling, the county also found that Bell Road Mine's previously approved rezoning applications were found to be compatible with surrounding property owners, the environment, and in compliance with the Lee Plan.
Corkscrew Shores
Today, you'll find one of Estero's premiere lakefront living communities bursting with families, comraderies and activity, thanks in part because of the careful planning by MDA's Land Planning team. Corkscrew Shores was the result of the first overlay established in the DR/GR (Density Reduction/Groundwater Resource area) to allow residential development. The team sought to address an existing platted community that permitted individual potable water, well and septic on 648 lots, in direct conflict with the desire to preserve groundwater resources in this corridor of the County. Morris-Depew Associates worked with Lee County Staff and Conservation Organizations to establish an overlay that addressed the existing permitted development while providing additional lands for conservation adjacent to existing CREW lands, which would support additional interconnections and flow-ways for wildlife. The team also worked to ensure 114 acres were placed into conservation, while a 240-acre lake serves as the central focal point for the stunning community with lush natural preserves throughout.